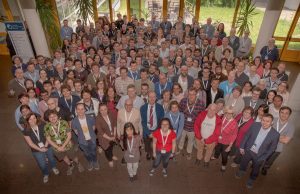 Photos of the conference are now available:
We warmly thank Anton Seleznev for sharing his collection of conference photos.
SOCIAL DINNER:
The Symposium dinner will be on Thursday May 30 at 8pm. It will be a (seated) buffet at La Scuderia, in the central University area.
La Scuderia, Piazza Giuseppe Verdi, 2, 40126 Bologna
Posters can be

up to A0

format (i.e. about 120×84 cm / 46.8×33.1 in, H x W)
Information on proceedings will be given at the conference
Warning : notice to all participants
We have been told that a participant has received a phone call from someone claiming to be part of the organization of the Symposium and trying to arrange flight and hotel reservations.
This is a scam. No one from the organization is contacting participants to arrange reservations.
Please note that the conference venue has been moved due to the large number of expected participants.
Registrations are now open!